I thought I'd make a mini collage of just a few (LOL) shoes that I am pining for at the moment, these are pictures of shoes that have been on my desktop for a while, and rather than having them fill up my entire desktop space I thought I'd share them, AREN'T THE ALL JUST BEAUTIFUL?!?!
Yes, yes I thought you would agree!!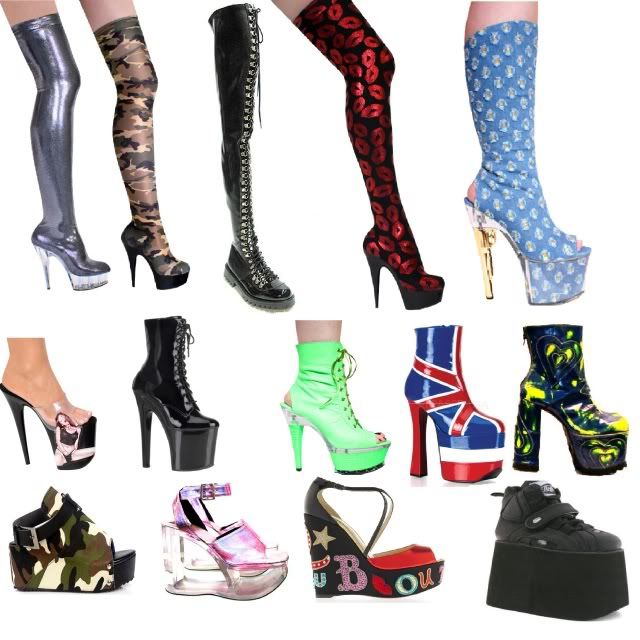 Top Left; the first two stretch thigh highs are from Karo's shoes, the middle latex lace up thigh high boots are from Fantasyshoes.com, which I think has since shut down...I have just been in awe of these bad boys ever since I found them! The two top right are again from Karo's shoes, Ugh! They have the right amount of awful!!
Middle Left; are Karo's shoes (again!) from the XXX Sticker collection, I think these stripper heels are fucking awesome! Then, of course, the XTREME Pleasers, fluro green baddies (Karo's shoes, duh!) AND I think these Union Jack Boots are Pleaser as well? I prefer these MUCH more to the pair that JC did, I dunno, I guess I just think these have more OMPHF! about them! The first middle rights are Vintage Luichiny's (The things I would do to get my sticky li'l fingers on a pair of these!!)
Bottom Left, awful little open toed sandel wedges from ebay, ABSOLUTELY into anything Camo ri' now! Kinda picked that up from Maxi and Mat! Perspex plastic pink wedges I found offof tumblr, BEAUTIFUL LOUBOUTIN'S (I know, I'm dreaming right!!) And ofcourse, what any ~90's kid~ baby goth who likes slime and slim shady would want...Buffalo Platforms found on ebay (I'm having a stab at myself about the whole baby goth thing, I'm just, just, JUST A TEENAGE DIRTBAG BABY!!)
Now I must awayy! New posts up soon! Going to see Prince tonight!!!!!!!!!!!!!!!!!!! WOOOO! Maybe I'll do an outfit post?!?